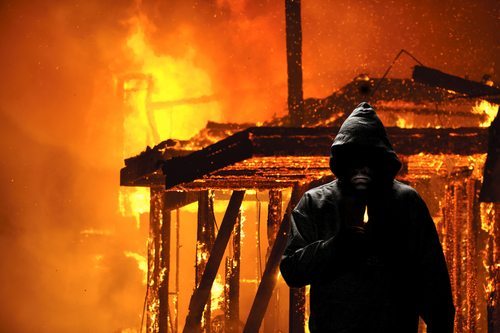 What is Arson in Pennsylvania?
Arson is an extremely serious and deadly crime in Pennsylvania carrying severe punishment if convicted.  The definition of Arson is in Pennsylvania Statute 18 Pa.C.S. §3301. So: What is Arson in Pennsylvania?
An Arson conviction carries harsh penalties usually involving a prison sentence, especially if you set a fire that endangers another person.  If charged with Arson, you cannot waste any time in retaining a trusted, aggressive, and experienced criminal defense attorney.
Arson in Pennsylvania
Pennsylvania law contains multiple arson offenses:
– Endangering another person, when you intentionally start a fire or cause an explosion, or your hire someone to start a fire or create an explosion recklessly placing another person in danger of death or injury. This level of Arson is a Felony of the 1st degree.
– If the fire or explosion causes someone's death, including firefighters or police, regardless of your intent, you will are charged with 1st Degree Felony Arson and 2nd Degree Felony Murder.
– If the fire or explosion endangers property only, and you intended to destroy or damage an unoccupied building in the hope of collecting insurance, this is 2nd Degree Felony Arson.
– If the fire or explosion is intentional and placed an unoccupied building in danger of destruction or damaged personal property with a value exceeding $5,000, or if the property is a car, motorcycle, airplane, or motorboat, this is 3rd Degree Felony Arson.
– If you fail to control a fire when feasible reasonably, or if you do not report a dangerous fire and fail to give a prompt fire alarm, this is 1st Degree Misdemeanor Arson.
– If you intentionally or recklessly start a fire that endangers a person or property, you will be charged with a Summary.
Arson Consequences in Pennsylvania
If convicted of Arson in Pennsylvania, you expose yourself to:
First Degree – 25 years to life if no death is involved.  Life without the possibility of parole, should someone die in the fire or explosion.
Second Degree – No more than 10 years in prison
Third Degree – No more than 7 years in prison.
How Paul S. Peters III, Esquire Can Help
Facing an Arson charge in Pennsylvania is a severe and grave situation.  An Arson conviction is highly likely to result in a prison sentence.  You need a Criminal Defense Attorney, like Attorney Peters, who will stand by you every step of the way, work tirelessly to discredit any evidence, aggressively advocate for you, and work with you to determine the best strategy to achieve the best possible result.  Do not waste time or make the wrong decision concerning an Arson charge.
Arson Charges create complicated fact scenarios with serious consequences if convicted, therefore, these cases require that you have an experienced, knowledgeable, and aggressive defense attorney to craft and present clear and convincing arguments challenging the evidence, and careful and precise cross-examination to shed doubt on the testimony of witnesses.  This is why you need a trusted and experienced criminal defense attorney such as Paul S. Peters III, Esquire.
If you or a loved one face Arson Charges, you MUST call Attorney Paul S. Peters III, Esquire 24 hours a day, 7 days a week, and he can appear at late night bail hearings.  Attorney Paul S. Peters III, Esquire knows that crime and the police never sleep.
YOU BETTER CALL PAUL! 
 

215-291-2944
ppeters@thepetersfirm.com
   TRUSTED, AGRESSIVE, ZEALOUS, AND EXPERIENCED PENNSYLVANIA 

CRIMINAL DEFENSE ATTORNEY

 
If you are arrested in any of the following Pennsylvania Counties:            Montgomery, Philadelphia, Bucks, Delaware, Chester, Lehigh, Lancaster,  Northampton, Berks, Adams, Cumberland, Dauphin, Franklin, Fulton, Huntington,  Juniata, Lebanon, Mifflin, Perry, Snyder, York Bradford, Cameron, Centre, Clinton,  Lycoming, Montour, Northumberland, Potter, Sullivan, Tioga, Union, Carbon, Columbia, Lackawanna,  Luzerne, Monroe, Pike, Schuylkill, Susquehanna, Wayne, and Wyoming County 
It is important you contact the trusted, aggressive, and experienced Pennsylvania Criminal Defense Attorney:
215-291-2944
ppeters@thepetersfirm.com