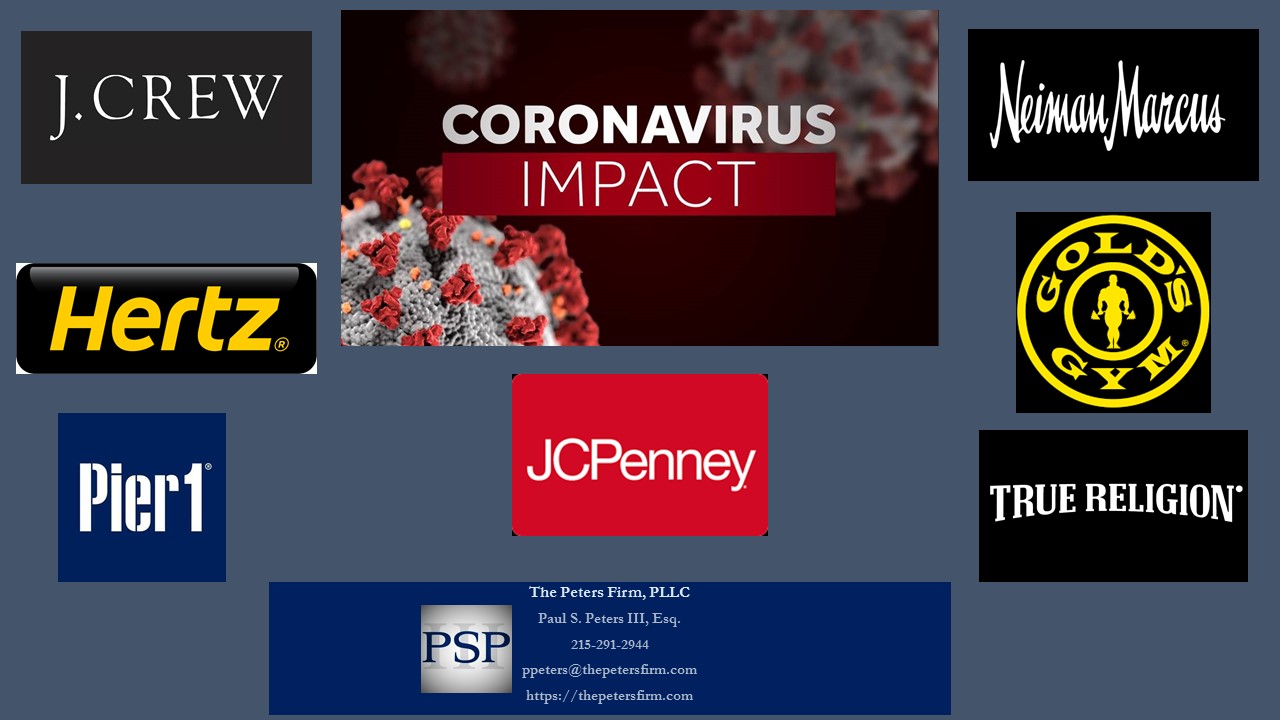 COVID-19 and The Social Justice Uprising:

A Perfect Storm for Extinction of Retail Dinosaurs?
On April 27, 2020, I wrote an article called COVID-19: A Retail Apocalypse and Chapter 11 Bankruptcy Tsunami.  Since then, the retail industry has slowly resumed business, albeit later than many expected.  Additionally, the recent social justice protests and the rioting and looting that followed in some areas led to property and inventory damage, as well as a delay in retail reopening.  Social distancing guidelines went ignored in some areas over the Memorial Day weekend, and they were not a visible priority in the social justice uprising seen through the nation these past two weeks.
Does the culmination of these events as related to COVID-19 move the landscape to Chapter 7 Bankruptcy Liquidations, Company Closings, and the extinction of well know retailers and service companies instead of Chapter 11 Bankruptcy restructurings?
The Current COVID-19 Bankruptcy List
Since my April 27, 2020 article, the following well know companies have filed Business Bankruptcies:
True Religion and Pier 1 do not appear to have intentions of restructuring but appear on the road to permanently ceasing business operations.  Things do not look favorable for J.C. Penney, given the recent mass store closing announced by the company.
Impact of the 2020 Perfect Storm
The 2020 Perfect Storm consists of the COVID-19 pandemic shut down, the questionable recreational activities during the Memorial Day weekend, and the social justice uprising in many areas.  The social justice uprising may bring a double punch to the Perfect Storm.  The protests brought large groups of people together, breaking social distancing guidelines, including the wearing of masks.  The non-peaceful actions brought significant damage and destruction to retail establishments in the form of looting, property damage, and arson.
The new concerns created in addition to the COVID-19 pandemic are:
Will the Memorial Day weekend actions and the recent protests result in a spike of COVID-19 cases?  If so, will the nation, or certain cities experience another country-wide shutdown?
Will the damage and property loss of many businesses across the country, prevent retailers that could have survived, collapse?  Will the lost inventory and the time required to repair and rebuild, be too much for those companies hanging on by a thread?
Retailers and Service Companies at Risk of Bankruptcy or Closure
Some companies have publicly announced the likelihood of bankruptcy, while others are likely soon to follow.
AMC Movie Theaters has announced in the last week it is headed toward bankruptcy.  Couple this with the probable delay of new movies.  Even when allowed to open, new movies will not be available, and people may be hesitant to go into tightly packed movie theaters until there is a COVID vaccine.   Additionally, if movie theaters must implement social distancing in their seating arrangements, the result will be fewer attendees and lost revenue per screening.
Other retail companies headed toward financial trouble are:
It remains to be seen what the impact will be on the service sector in industries such as barbers and hair salons, spas, nail salons, dry cleaners, gyms and fitness studios, restaurants, and tattoo parlors.
Conclusion
We will learn the full COVID-19 impact of Memorial Day weekend and the protests until early to mid-July.  If a second outbreak occurs, there may be greater fallout.  Consumer confidence in venturing back out in public, the unemployment rate, and how the lack of summer camps and childcare will prevent many from returning to work is still unknown.
We face a likelihood that top named retailers we have all known over the last few decades will become extinct dinosaurs that we tell the next generation about when they ask: What does the "Gap" tag on our jeans mean?
– Paul S. Peters III, Esquire is an attorney located in Elkins Park, PA serving clients in Montgomery, Philadelphia, Bucks, Delaware, Chester, Lehigh, Lancaster, Northampton, and Berks Counties in the areas of Bankruptcy, Employment Law & Small Business Needs, Criminal Defense, Family Law, and Estate Planning.
   TRUSTED, COMPASSIONATE, ZEALOUS, AND EXPERIENCED PENNSYLVANIA BANKRUPTCY
 ATTORNEY
If you are facing the prospect of a bankruptcy filing in Pennsylvania, and need legal guidance, advice, and consultation in:            Montgomery, Philadelphia, Bucks, Delaware, Chester, Lehigh, Lancaster,  Northampton, Berks, Adams, Cumberland, Dauphin, Franklin, Fulton, Huntington,  Juniata, Lebanon, Mifflin, Perry, Snyder, York Bradford, Cameron, Centre, Clinton,  Lycoming, Montour, Northumberland, Potter, Sullivan, Tioga, Union, Carbon,  Columbia, Lackawanna,  Luzerne, Monroe, Pike, Schuylkill, Susquehanna, Wayne, and Wyoming County 
It is important you contact the trusted and experienced Bankruptcy Attorney:
215-291-2944
ppeters@thepetersfirm.com