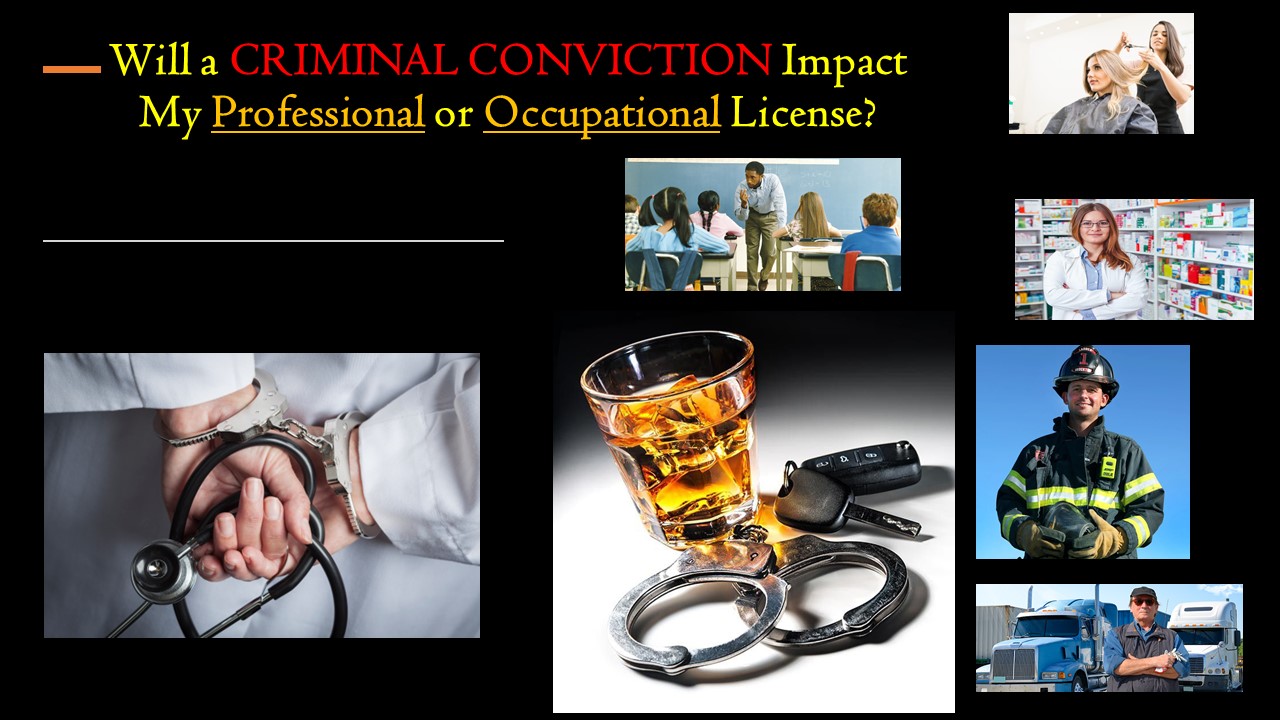 Professional and Occupational License Defense Lawyer
in Pennsylvania
In Pennsylvania, certain Professions and Occupations require obtaining a license first before entering the Profession or Occupation. Obtaining these licenses can be challenging or impossible if you have a criminal record; you can also lose the license if convicted for certain crimes while active in the Profession or Occupation.  In addition to criminal conviction challenges, violations of the Rules, Standards, and Procedures within your Profession or Occupation can risk the loss of your license or other penalties assessed before any licensing or disciplinary board.
A wide range of criminal convictions can impact Professional and Occupational licenses.  Significant crimes/felonies such as Murder, Rape, Arson, Burglary, Robbery, and Kidnapping will negatively impact a license.  Lesser crimes such as DUI, Drug Possession, Traffic Offenses, Summaries, and Misdemeanors relating to Minors, and Theft or Fraud can threaten your license.
Many Licensing Boards simply list lack of "Good Moral Character" or commission of "CRIMES OF MORAL TURPITUDE" will disqualify or lead to a suspension of one's professional license.
Some Professional and Occupational Licenses in Pennsylvania qualify you as a "MANDATORY REPORTER" which brings added responsibility and oversight, as well as exposure to additional criminal sanctions for failure to comply.
To Learn More about "CRIMES OF MORAL TURPITUDE" and "MANDATORY REPORTERS" Click Below.
Most Professions and Occupations requiring licenses in Pennsylvania have licensing boards and officials within Pennsylvania.  The boards and officials may have yearly educational requirements, random inspections or audits, monthly/quarterly/annual performance requirements, and if applicable, facility standards.  A Criminal Conviction or violation of the board requirements can result in your appearance before the board to answer to charges, citations, and accusations.  If not handled properly, you risk the loss of your license, which will lead to an inability to work in your Profession or Occupation and lose your primary source of income.  Not to mention wasting years of hard work, commitment, and money, as well as the collateral impact to your family, employees, and customers/clients.
Paul S. Peters III, Esquire, has extensive experience and knowledge with licensing requirements and the threats criminal convictions create for those licenses.  Attorney Peters will aggressively defend you before the applicable licensing and administrative board for your Profession or Occupation.
Pennsylvania
Professions and Occupations Requiring a License
Professions are careers that require a 4-year college or advanced degree; Occupations may have a trade school requirement, but not a college degree requirement.
CLICK ONE OF THE PROFESSIONS/OCCUPATIONS 

BELOW
TO FIND OUT HOW A

CRIMINAL CONVICTION

MAY IMPACT YOU
representing those fighting criminal charges. 
The Peters Firm, PLLC
215-294-2944 or ppeters@thepetersfirm.com
Attorney Peters has handled criminal cases in Montgomery, Philadelphia, Bucks, Delaware, Chester,                     Lehigh, Lancaster, Northampton, Berks Counties, as well as in the Federal Criminal Justice system within the Eastern District of Pennsylvania.
 If you or a loved one are facing criminal charges or a Professional or Occupational License Suspension, call Attorney Peters 24 hours at 215-696-1509.  If necessary, he will make himself available to attend a late-night bail or arraignment hearing and quickly travel to the correctional facility you or your loved one are incarcerated.
 To avoid delay in representation and defense given time is always of the essence in criminal matters, Attorney Peters accepts all major credit cards and offers flexible and reasonable payment arrangements. 
 If arrested, YOU BETTER CALL PAUL!
215-291-2944
ppeters@thepetersfirm.com
TRUSTED AND AGGRESSIVE PENNSYLVANIA
PROFESSIONAL AND OCCUPATIONAL LICENSE DEFENSE ATTORNEY 
If your Professional or Occupational License is in Jeopardy in Pennsylvania in any of the following counties, contact the trusted, aggressive, and experienced Montgomery, Philadelphia, Bucks, Delaware, Chester, Lehigh, Lancaster, Northampton,                  Berks, Adams, Cumberland, Dauphin, Franklin, Fulton, Huntington, Juniata, Lebanon, Mifflin, Perry, Snyder, York     Bradford, Cameron, Centre, Clinton, Lycoming, Montour, Northumberland, Potter, Sullivan, Tioga, Union, Carbon,   Columbia, Lackawanna,  Luzerne, Monroe, Pike, Schuylkill, Susquehanna, Wayne, and Wyoming County Criminal Defense Attorney:
215-291-2944
ppeters@thepetersfirm.com