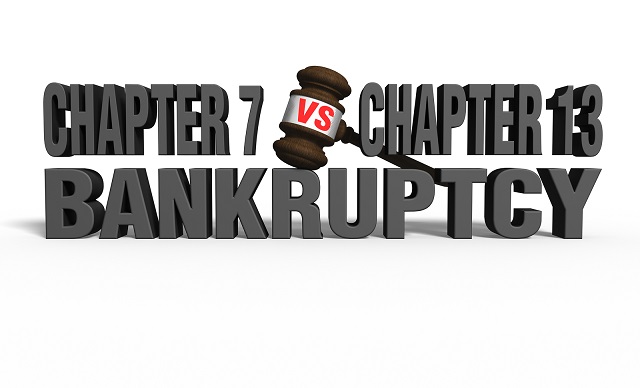 Chapter 7 vs. Chapter 13 Bankruptcy
The differences between a Chapter 7 Bankruptcy and a Chapter 13 Bankruptcy are complex, but the important information to have is why you would file one type of bankruptcy over another.  Only single persons or married couples (including same-sex spouses) may file for Bankruptcy.  Boyfriend-Girlfriend, Same-Sex Couples, Engaged Couples, or other Family Related persons may not file bankruptcy.
CHAPTER 7 Bankruptcy
A Chapter 7 Bankruptcy is for situations in which a person or married couple is burdened with unmanageable credit card debt, medical bills, and other unsecured debts (debts not attached to a piece of property).
In most cases, filing a Chapter 7 erases/discharges all the unsecured debts, and allows the filer(s) to keep personal property and their home through Bankruptcy Exemptions.  When it comes to your home in a Chapter 7 Bankruptcy, the mortgage payments must be current, and the home cannot have more equity (market value – mortgage loan) than permitted by the court.
CHAPTER 13 Bankruptcy
Chapter 13 is for those facing Home Foreclosure and wishing to try to save their home. The Chapter 13 stops all foreclosure actions on their home and allows them to arrange, through the court, a five-year payment plan to cure the missed mortgage payments while resuming making the normal monthly payments going forward.
Chapter 13 bankruptcies may also be filed to create payment plans for tax debt, student loan debt, and auto loans. Lastly, if you earn over a certain amount or too much equity in your home, you may use the Chapter 13 to stop collection actions on unsecured debts, and only pay back a small portion of the unsecured debts.
A Trusted Philadelphia and Montgomery County Bankruptcy Attorney