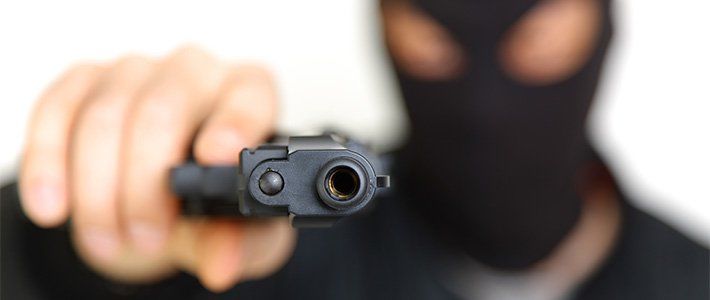 What Gun Crimes are there
in Pennsylvania?
Possession of a Gun in Pennsylvania
Possession of a firearm or gun has become one of the most serious offenses in Pennsylvania, especially in Philadelphia and its surrounding counties.  You are subject to incarceration merely for possession of a firearm without a license to carry; however, the penalties escalate drastically for every offense committed while in possession of a firearm, even if the gun is never discharged.  This leads to the good question of: What Gun Crimes are there in Pennsylvania? 
Possession of a firearm during the commission of most violent crimes and Possession with Intent to Deliver (PWID) drugs triggers mandatory minimum sentences where the judge has no discretion but to impose significant state incarceration.  For example, if you are convicted of robbery, burglary, rape, aggravated assault, attempted murder, or other violent crimes, and you are in possession of a firearm, the court must impose a mandatory sentence of 5 years of incarceration. 
Possession of a Gun & Possession with Intent to Deliver in Pennsylvania
If charged with possession with intent to deliver marijuana, cocaine, heroin, pills or any other drug and you, or a co-defendant, are in possession of a firearm or gun, or a firearm or gun is found in close proximity to the drug sales, you are subject to a mandatory 5-year state sentence if convicted. This issue most often arises where drug sales are taking place from a house. After undercover police or a confidential informant buy drugs out of a residence, police will apply for a search warrant under the theory that they expect to find additional drugs in the home. During the execution of the warrant, police recover drugs, money, and paraphernalia such as unused baggies, scales, and razor blades. But, in many instances they also recover firearms. Where in the house the guns are recovered, whether they are found in plain view, and recovery of proof of residence for who owns and lives in the house are key to defending against this theory.
Common Firearm Charges in Pennsylvania (commonly referred to as VUFA)
– 18 Pa.C.S. § 6106:  In every county in Pennsylvania it is illegal to be in possession of a firearm concealed on your person or in a vehicle without a valid license to carry.  This is graded as a felony of the third-degree and therefore carries a maximum penalty of 7-years incarceration.  If you can prove that you were otherwise eligible for a license to carry but simply never applied for a license, it may be graded as a misdemeanor of the first degree, which carries a maximum penalty of 5 years of incarceration. 
– 18 Pa.C.S. § 6108:  In Philadelphia County, there is an additional firearm charge for simply possessing a gun on the streets of Philadelphia without a carry permit.  Section 6108 is a first-degree misdemeanor punishable by up to 5 years in prison. 
– 18 Pa.C.S. § 6105:  This is graded as a second-degree felony unless the prior triggering offense occurred when the defendant was a juvenile in which case it is a first-degree misdemeanor.  Section 6105 pertains to possession of a gun by a convicted felon.  If you have previously been convicted of certain crimes and you are found in possession of a gun, you will be charged with Section 6105.  If convicted of section 6105 you face significant state prison time.  The sentencing guidelines, at a minimum, call for 3 years of state incarceration and one can receive as much as 5 to 10 years if convicted of this offense. The most common prior offenses include:
Robbery
Rape
Attempted Murder
Arson
Intimidation of a Witness
– 18 Pa.C.S. § 6111:  Straw gun purchasers are charged with Section 6111 for the illegal sale or transfer of a firearm, tampering with public records, unsworn falsifications, and related offenses. A straw purchase is when someone who has no prior record goes to a gun store or show and indicates on paper they are buying the gun for themselves but are truly buying it for a convicted felon or someone who is otherwise not authorized to purchase or possess a firearm.  Women are the most common to be charged with this offense as they commonly purchase the gun for a boyfriend who cannot make the purchase due to a prior felony conviction. A straw purchaser is often caught after being observed receiving money or getting into a car with a male after making a gun purchase. 
Because firearm charges are possessory offenses, the most common defenses are similar to those charged with possession and possession with intent to deliver narcotics.  Those defenses include pre-trial motions to suppress, illegal search and seizure, mere presence, police and civilian witness credibility, and actual versus constructive possession. 
The above should help in clarifying the question: What are the Gun Crimes in Pennsylvania?
Charges of Violation of Pennsylvania's Firearm's Laws create complicated fact scenarios with serious consequences if convicted, therefore, these cases require that you have an experienced, knowledgeable, and aggressive defense attorney to craft and present clear and convincing arguments challenging the evidence, and careful and precise cross-examination to shed doubt on the testimony of witnesses.  This is why you need a trusted and experienced criminal defense attorney such as Paul S. Peters III, Esquire.
If you or a loved one are faced with an alleged violation of Pennsylvania's serious Gun Laws, you can call Attorney Paul S. Peters III, Esquire 24 hours a day, 7 days a week, and he can appear at late night bail hearings.  Attorney Paul S. Peters III, Esquire knows that crime and the police never sleep.
If arrested for Violation of Pennsylvania's Gun Laws, YOU BETTER CALL PAUL AT:
 

215-291-2944
ppeters@thepetersfirm.com
   TRUSTED, AGRESSIVE, ZEALOUS, AND EXPERIENCED PENNSYLVANIA 

CRIMINAL DEFENSE ATTORNEY

 
If you arrest in any of the following Pennsylvania Counties:            Montgomery, Philadelphia, Bucks, Delaware, Chester, Lehigh, Lancaster,  Northampton, Berks, Adams, Cumberland, Dauphin, Franklin, Fulton, Huntington,  Juniata, Lebanon, Mifflin, Perry, Snyder, York Bradford, Cameron, Centre, Clinton,  Lycoming, Montour, Northumberland, Potter, Sullivan, Tioga, Union, Carbon, Columbia, Lackawanna,  Luzerne, Monroe, Pike, Schuylkill, Susquehanna, Wayne, and Wyoming County 
It is important you contact the trusted, aggressive, and experienced Pennsylvania Criminal Defense Attorney:
215-291-2944
ppeters@thepetersfirm.com