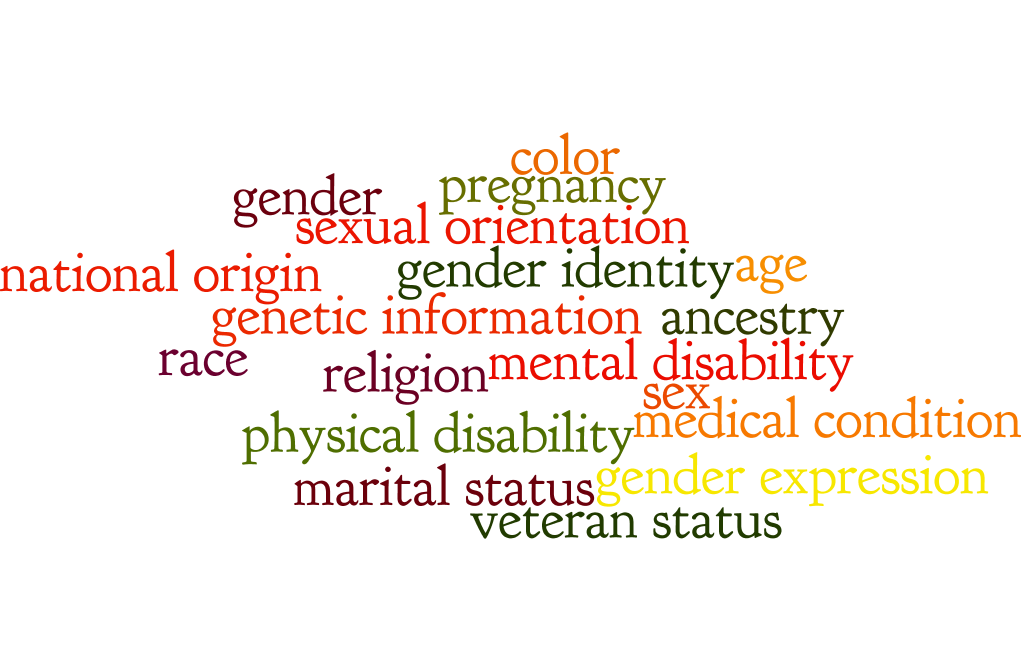 What are Protected Classes in Employment?
Employment Law and Workplace Discrimination primarily focus on individuals falling within a defined "protected class."  The Federal Government has a list of specific "protected classes," and states and municipalities are free to add to the Federal Government's "protected classes" list.  This results in the common questions to Attorneys and Human Resource Professionals: What are Protected Classes in Employment?
What is the Definition of a Protected Class?
A "protected class" is commonly defined as a group of people who are provided special protection under a specific law, policy, or regulation.  This legal concept primarily intersects with Employment Law by way of protecting the particular class from Discrimination, Retaliation, or Adverse Employment Actions due to the individual's "protected class" status.  It focuses on groups of people historically discriminated against and denied opportunities in the workplace, marginalized by society, or considered to represent a minor segment of the overall population; it seeks to provide a voice for those whose voice faces suppression historically, systematically, and currently.
What are the Protected Classes under Federal Law?
The United States government has established its list of "protected classes" via laws passed over the years aimed at eliminating discrimination against a specific class.
The Ten Federally "Protected Classes" are:
In many instances, the difference between the protected classes of Race and National Origin creates confusion.  While Race and National Origin correlate with each other in some ways, the law treats them as entirely different.  Race refers to a person's physical characteristics such as skin color; whereas, National Origin refers to where a person, or his/her ancestors, originated or were born.  For instance, one may assume "White" people would be from Europe, "Asian" people would be from Asia, and "Black" people would be from Africa.  However, this is not true given global travel and the diversity of world populations; race and national origin are not as simple as skin color and can result in false assumptions.
What are Protected Classes under State and Municipal Laws?
States and Municipalities must recognize all federally defined "protected classes."  However, States and Municipalities can add to the list of "protected classes" through their own state and local laws.
The paramount example of this is Sexual Orientation.  The federal government does not recognize Sexual Orientation or Gender Identity as protected classes.  Therefore, the federal government does not explicitly protect those identifying as gay or lesbian, bisexual, transgender, or gender-fluid, to name a few categories.  While the federal government does not expressly provide protection by law, the EEOC recognizes Sexual Orientation and Gender Identity as protected.  Additionally, there is a split among some federal appellate courts on the issue of whether the "protected class" of "Sex (Male/Female)" includes sexual orientation and gender identity.
Currently, 21 States and many large cities include Sexual Orientation and Gender Identity in the list of "protected classes."
Other examples of added "protected classes" by States and Municipalities are domestic violence victims, those having criminal records, and breastfeeding mothers.
If you believe you have suffered discrimination, retaliation, or an adverse employment action by your employer due to identifying with a "protected class," contact Paul S. Peters III, Esq. for a FREE CONSULTATION regarding your situation.  Paul S. Peters III, Esq. has vast experience in Discrimination matters as an attorney, Human Resources Professional, and Employment Law Professor.  He provides clients a unique and beneficial perspective and skill set for representation in Discrimination cases due to his diverse experience in the area of Employment Law.  If you question an employer's actions regarding identifying with a "protected class":
YOU BETTER

CALL PAUL!
215-291-2944
ppeters@thepetersfirm.com
   TRUSTED, COMPASSIONATE, ZEALOUS, AND EXPERIENCED PENNSYLVANIA 

EMPLOYMENT LAW ATTORNEY

 
If you are involved in an Employment Law matter as an employee or employer and need legal guidance, advice, and consultation in: Montgomery, Philadelphia, Bucks, Delaware, Chester, Lehigh, Lancaster,    Northampton, Berks, Adams, Cumberland, Dauphin, Franklin, Fulton, Huntington,  Juniata, Lebanon, Mifflin, Perry, Snyder, York, Bradford, Cameron, Centre, Clinton,  Lycoming, Montour, Northumberland, Potter, Sullivan, Tioga, Union, Carbon,              Columbia, Lackawanna,  Luzerne, Monroe, Pike, Schuylkill, Susquehanna, Wayne, and Wyoming County 
It is important you contact the trusted and experienced Employment Law Attorney:
215-291-2944
ppeters@thepetersfirm.com