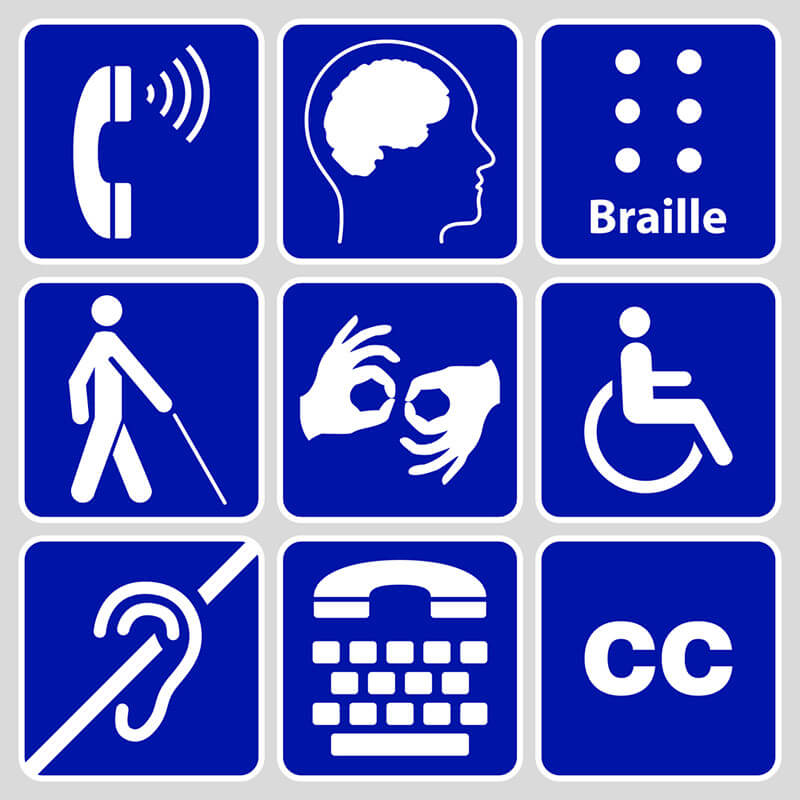 Who Qualifies for
Americans with Disabilities Act Protections?
The Americans with Disabilities Act (ADA) became a federal law in 1990.  It was amended in 2008 by the ADA Amendments Act (ADAAA).
The primary purpose of the ADA is to provide workplace protections for individuals with a qualifying disability.  The protections include the requirements of employers implementing a "reasonable accommodation" for the employee, and protecting the employee from discrimination due to the qualifying disability.
How does the ADA Define a Disability?
The ADA defines a qualifying disability as:
A physical or mental impairment that substantially limits one or more major life activities, i.e., ACTUAL DISABILITY.
A record of a Disability.
Regarded as having a Disability (PERCEIVED DISABILITY).
What is an Actual Disability under the ADA?
The ADA includes both physical and mental impairments in the definition of disability.  The ADA does not contain a list of covered disabilities; however, the Equal Employment Opportunity Commission (EEOC) has listed specific impairments that qualify as disabilities under the ADA.  The classification of an impairment as a disability derives from the impairment's impact on the individual's functioning, not mere diagnostic labels.
Examples of impairments qualifying as disabilities per the EEOC are:
Deafness & Blindness

Mental Special Needs & Autism

Partially or Missing Limbs

Mobility Impairments (wheelchair, cane, permanent crutches (polio))

Cancer

Cerebral Palsy & Multiple Sclerosis & Muscular Dystrophy

Diabetes

Epilepsy & Seizures

HIV

Manic Depression

Bipolar Disorder & Multiple Personalities

PTSD

OCD

Schizophrenia

Alcoholism
While Alcoholism is a qualifying disability, drug addiction is not.  However, an employee that has undergone treatment for drug addiction and is no longer using is afforded protections under the ADA.
When analyzing an impairment for qualifying disability purposes, the ADA and EEOC require that a person's mental condition or disorder (impairment) substantially limit one or more major life activities, such as:
Caring for oneself

Performing manual tasks

Seeing; hearing; eating; speaking

Concentrating; thinking; communicating; working; standing; lifting; bending; breathing

Primary bodily functions such as brain, bladder, healthy cell growth, & immune system functioning
What is a Record of a Disability?
When referring to a Record of a Disability, the ADA focuses on situations where employees may experience discrimination based on a past disability, such as the stigma attached to certain conditions (mental illness) or a fear the disability/illness will reoccur (cancer) (alcohol/drug addiction).  Also, there are instances where people get misdiagnosed with a disability, but the diagnosis remains in their medical records.
What is a Perceived Disability?
This situation occurs when an employee is subjected to discrimination because an employer assumes an actual disability exists even if that is not the truth.
For example, an employer may learn the employee or candidate suffered a stroke, has depression or was involved in an accident resulting in severe head trauma.  If the employer makes assumptions that any of those situations create an actual disability under the ADA and the employer takes an adverse employment action against the employee or candidate, that is considered unlawful discrimination.  Again, the employee or candidate does not have to have a qualifying disability; it merely requires a wrong assumption by the employer.  The issue in these cases is the employer fails to consider the employee or candidate's actual abilities and qualifications to perform the essential job functions.  The ADA requires an individual analysis of the employee's or candidate's actual ability.
If you believe you have suffered discrimination, retaliation, or a failure to provide a reasonable accommodation by your employer due to a disability, contact Paul S. Peters III, Esq. for a FREE CONSULTATION regarding your situation.  Paul S. Peters III, Esq. has vast experience in ADA matters both as an attorney and a Human Resources Professional.  He provides clients a unique and beneficial perspective and skill set for representation under the ADA.  If you question an employer's actions regarding your disability:
YOU BETTER

CALL PAUL!
215-291-2944
ppeters@thepetersfirm.com
   TRUSTED, COMPASSIONATE, ZEALOUS, AND EXPERIENCED PENNSYLVANIA 

EMPLOYMENT LAW ATTORNEY

 
If you are involved in an Employment Law matter as an employee or employer and need legal guidance, advice, and consultation in: Montgomery, Philadelphia, Bucks, Delaware, Chester, Lehigh, Lancaster,    Northampton, Berks, Adams, Cumberland, Dauphin, Franklin, Fulton, Huntington,  Juniata, Lebanon, Mifflin, Perry, Snyder, York, Bradford, Cameron, Centre, Clinton,  Lycoming, Montour, Northumberland, Potter, Sullivan, Tioga, Union, Carbon,              Columbia, Lackawanna,  Luzerne, Monroe, Pike, Schuylkill, Susquehanna, Wayne, and Wyoming County 
It is important you contact the trusted and experienced Employment Law Attorney:
215-291-2944
ppeters@thepetersfirm.com